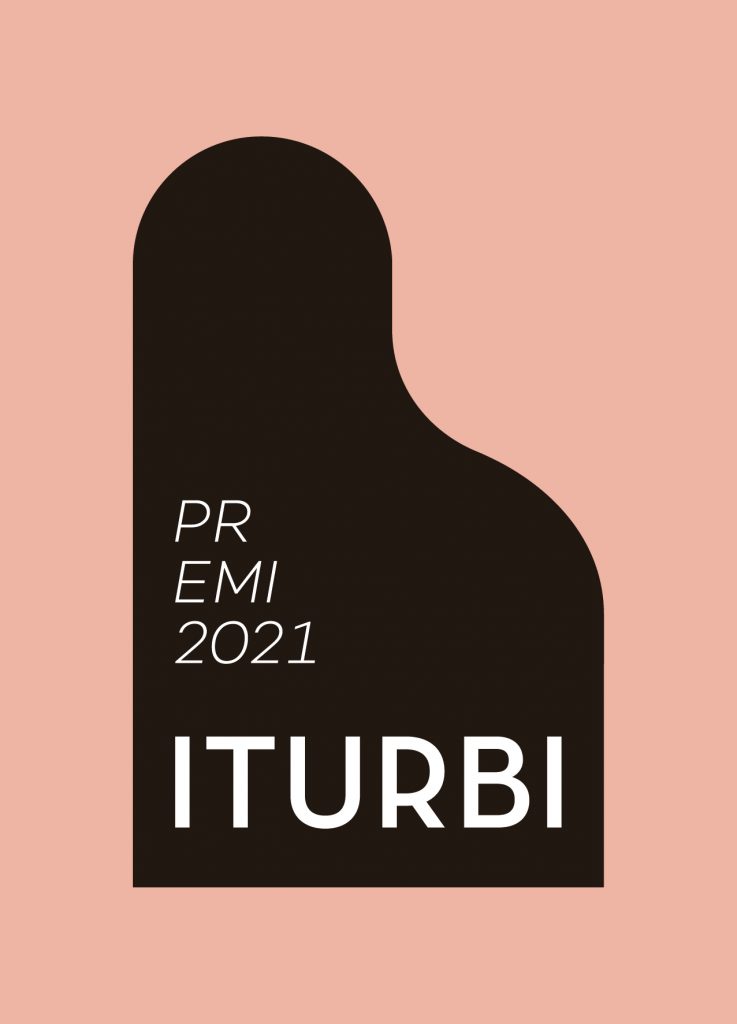 21st
ITURBI
INTERNATIONAL
PIANO
COMPETITION
VALÈNCIA

PRESELECTION PHASE. RECORDING THE VIDEO
Duration: between 20 – 30 minutes. Free program. Individual movements will be accepted.
The repertoire performed in this recording could or could not be played in subsequent rounds of the Competition, according to each candidate's criteria.
COMPENSATION SELECTED CANDIDATES
400 Euros for each one of the listed candidates to participate in the Competition as a contribution to the travelling and living expenses.
100 Euros for each one of the selected candidates to participate in the semifinal as a contribution to the travelling and living expenses.
FIRST ROUND
30 minutes concert. Free program.
SECOND ROUND
A concert of 30 – 45 minutes in which it will be mandatory to play a piece of contrapuntal characteristics: Preludes and Fugues from the Well-Tempered Clavier by Bach, Preludes and fugues by Shostakovich, Ludus Tonalis by Hindemith, Preludes and Fugues by Mendelssohn, Bach-Busoni, Bach-Liszt, etc.
The programme for this concert will be completed freely with a maximum duration of 45 minutes and a minimum of 30 minutes.
SEMIFINAL
60 minutes concert. Free choice program in which the work commissioned to Óscar Colomina for the Iturbi Competition 2021 must be included. This piece will be available for the participants from the 1st of February of 2021. The estimated length of the piece by Óscar Colomina is between 5 to 10 minutes approximately.
FINAL I
Performing one out of five concerts for piano and orchestra by Ludwig van Beethoven.
GRAN FINAL
Performing a concert for piano and orchestra among the followings:
Chopin: Concertos nº 1 and nº 2.
Liszt: Concertos nº 1 and nº 2.
Schumann: Concerto in A Minor.
Brahms: Concertos nº 1 and nº 2.
Tchaikovsky: Concerto nº 1 in B Flat Minor.
Saint-Saëns: Concertos nº 2 in G Minor and nº 5 in F Major.
Prokofiev: Concertos nº 2 y nº 3.
Ravel: Concerto in G  Major and Concert for the Left Hand.
Rachmaninov: Concertos no. 1, no. 2, no. 3 and Variations on a theme by Paganini.
Britten: Concerto op. 13.
Strauss: Burlesque
Bartok: Concertos nº 2 and nº 3
Joaquín Rodrigo: Concierto Heroico.
Manuel Palau: Concierto Dramático.
During the different rounds, the pieces listed below must be included. Participants can freely decide which ones will be performed in each round (except for the Preselection).
One sonata by Beethoven
One sonata by Mozart
Two short pieces by Chopin, of which one is an obligatory nocturn.
One piece of the Goyescas by Enrique Granados, for the Suite Iberia by Isaac Albéniz, or the Fantasía Bética by Manuel de Falla.
Participants cannot repeat pieces during the Competition.
All the pieces will be performed by heart, except for the piece by Óscar Colomina, which can be played with or without sheet music.